I had been wanting to do something special in honor of the blog turning two back in January but the pregnancy and the resulting baby put that plan on hold. So now, almost three months later, I am having a giveaway in honor of the blog's second birthday. I picked up Sara Perry's book
Deep Dark Chocolate
and fell in love with both the pictures and the recipes. The book has a recipe for almost everything you can think of putting chocolate in. Now you can own a copy of this book!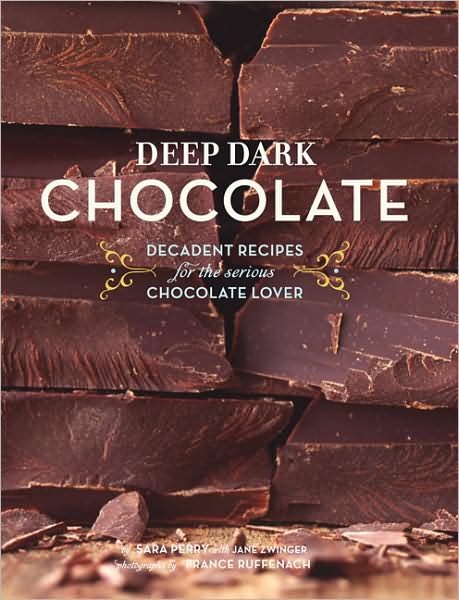 From Amazon.com
:
From Publishers Weekly
Veteran cookbook author Perry (Holiday Baking, Everything Tastes Better with Bacon, The New Tea Book) returns with a winning take on everyone's favorite sweet. Chocolate lovers can start their day off with the indulgent, gooey Chocolate Sticky Buns or Chocolate Dream Scones with Mascarpone Spread before breaking out the Vin Santo and Brioche Chocolate Bread Pudding at brunch and snacking throughout the day on various cookies and bars. Desserts are where chocolate really shines, and Perry doesn't disappoint with dishes like a Chocolate Gingerbread with Cacao Nib Whipped Cream cake, "Baby Loves," a chocolate-filled macaroon, as well as Good Ol' Fudgy Brownies and the "It's My Party" Birthday Cake. Eschewing time and labor-intensive recipes, Perry offers an easy greatest-hits list, with 6 variations for hot chocolate, a fondue for every season and simple Mom's Frozen Fudge Pops for summertime. While there are already more than enough cookbooks devoted to the topic, the approachability and breadth of Perry's sweet, inventive collection make it worth the indulgence.

Product Description
Dark chocolate lovers will fall head over heels for each of the more than 60 indulgent recipes in Deep Dark Chocolate. Everyday treats include Black Magic Chocolate Espresso Cookies and Crunchy Nut Bittersweet Caramel Bars while fancy delights like Papa Haydn's Chocolate Gateau and Little Chocolate Cheesecake with Mocha Affogato offer up irresistible decadence. Whether the recipe calls for bittersweet or semisweet chocolate cocoa nibs cocoa beans or all of them together everyone at the dinner table will be saving room for dessert! With gorgeous chocolate-drenched photographs and a quick primer that reveals the essentials about this highly sought after treat (it's high in healthy antioxidants!) Deep Dark Chocolate keeps the bittersweet-tooth forever satisfied.

Here's how to enter (it's simple, I promise!)
:
1. You must comment on this post by answering the following question: What is your favorite type of chocolate?
2. Only one entry per person.
3. You have until 11pm on Sunday, April 4th to enter.
I'll choose the winner on Monday, April 5th using random.org and post about it then.
Good luck!